The Festival
Historic Frontier Park » 11am - 5pm

Greenway Network is collaborating with CraftMonster this year to produce ART ON THE RIVERS, a greatly enhanced and expanded event.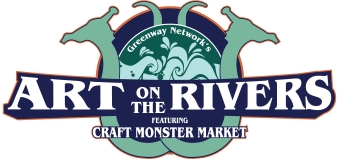 The Race for the Rivers Festival is at the center of the Race for the Rivers canoe/kayak races and the Ride for the Rivers Katy Trail Fun Rides (register here). The festival includes a full day of music, food, beer, crafts, arts, environmental education and opportunities to volunteer. 
Once again there are FREE paddles on voyager class canoes (similar to those used by Lewis and Clark). This is a great opportunity to experience the Big Muddy up close and personal.
All are welcome to come out and enjoy live music, great food and family-friendly, hands-on environmental educational displays and activities! The festival serves as the perfect place to keep tabs on the leader boards as you mingle among the racers and peruse local vendors – not to mention, it's a prime spot to watch the racers cross the flying finish line.
Want to get involved?  Have more time than money?  VOLUNTEER!  The Race for the Rivers Festival needs you. check out the volunteering page or contact us at greewaynetwork@gmail.com.
Vendor Information

All art and craft vendors must apply through Craft Monster.
Educational, non-profit, commercial (but not art/craft) and food vendors register with Greenway Network.
Vendor Information for the day of the festival is will be posted shortly.
The festival layout is here.  Booths are assigned by either Craft Monster or Greenway Network.  When you check in on the day of the festival, you will be given an updated map and your booth assignment.
2016 Festival Booths and Participants:
Big Muddy Adventures (Free Canoe Rides!)
Bike Stop Cafe & Outpost
Coffee Creations, Treats and Treasures
Comfort Station
Craft Monster booth (nonsales)
Gateway Residential Remodeling
Greenway Network T-Shirt Sales
Jacob Leinenkugel Brewing Company
Ladsurfski - Stand Up Paddling Equipment
Missouri Falun Dafa Association - Free demonstration and instruction of the Chinese meditation Falun Dafa
Missouri Master Naturalists - Great Rivers Chapter - will educate and engage Missourians in active responsible stewardship of our state's natural resources through science-based education and community service. With the use of MDC nature trunks and other educational tools such as a live aquatic macro-invertebrate display and a miniature stream table display.€" The participants will help inform the public of the positive benefits of protection of our state's natural resources. 
Missouri Stream Team
Quapaw Canoe Company
Seal Smart
TitleMax
St. Charles Area Radio Club (learn about ham radio communications and listen as they monitor the progress of the racers along the course of the river)
US Fish and Wildlife Service Stream Trailer
Sierra Club
St. Charles County Soil and Water Conservation District
Stream Trash Art
Thought Process Interactive - Race Leader Board
Steeped Tea - Loose leaf teas and accessories
Waggons West - Upcycled clothing and accessories.  Traditional style soaps.  Quilts.
 Artists
A & M Accessories - Original, handmade and one of a kind jewelry

Beqi Clothing - Good Clothes for Bad Girls, plus jewelry and hair accessories

Carrie Heyen - Clothing and Accessories

Charming Cuisine - Food, Jewelry and Hand made Gifts

Crawling Chaos - Handmade Children's Clothing

Creature Curios - Hand Stitched Cyclops Stuffies

Fine Line Studios - Creative Services for Adults with Disabilities

Geek Nest - Pop Culture Themed Candles

Indian Sunshine - Indian Cuisine

Josephine's - Handmade Custom Jewelry

Moosemingo - Earrings, Belts, Accessories

Rambling Eclectica - Art, Trinkets and other oddities

Red Herring Illustration - Fantasy and Fantastical Art

RooSpot Art - Custom Art on Fabric and Clothing

Sadly Harmless - Illustrative prints and shadow boxes

Scarlett and Maria - Clothing, Jewelry, Accessories

Sweet Spirits Farm - Goat's Milk Soap

Vivacious Lathers - Plant Based Soaps

Wanderlust Travelers Group St. Louis - Like Minded People Who Like to Travel with Others for a Purpose

West Park Creative - A Letter Press and Design Studio

Willetta Gray Design - Hand Made Clutches, Purses, Bags, Headbands, Earrings and other accessories
Food/Drink Vendors 
Kids Activities - A newly expanded kids area where most activities are FREE
Sunpainting
Upcycle crafts
Water play area
Rain Gutter Races
News and Updates