The Festival
Historic Frontier Park » 11am - 5pm

Greenway Network is collaborating with CraftMonster this year to produce ART ON THE RIVERS, a greatly enhanced and expanded event.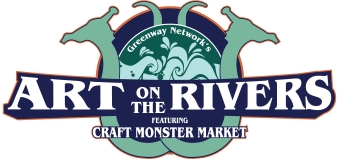 The Race for the Rivers Festival is at the center of the Race for the Rivers canoe/kayak races and the Ride for the Rivers Katy Trail Fun Rides (register here). The festival includes a full day of music, food, beer, crafts, arts, environmental education and opportunities to volunteer.
Once again there are FREE paddles on voyager class canoes (similar to those used by Lewis and Clark). This is a great opportunity to experience the Big Muddy up close and personal.
All are welcome to come out and enjoy live music, great food and family-friendly, hands-on environmental educational displays and activities! The festival serves as the perfect place to keep tabs on the leader boards as you mingle among the racers and peruse local vendors – not to mention, it's a prime spot to watch the racers cross the flying finish line.
Want to get involved? Have more time than money? VOLUNTEER! The Race for the Rivers Festival needs you. check out the volunteering page or contact us at greewaynetwork@gmail.com.
Vendor Information

All art and craft vendors must apply through Craft Monster.
Educational, non-profit, commercial (but not art/craft) and food vendors register with Greenway Network.
Vendor Information for the day of the festival is will be posted shortly.
The festival layout is here. Booths are assigned by the city of St. Charles, not Craft Monster nor Greenway Network. When you check in on the day of the festival, you will be given an updated map and your booth assignment.
2015 Festival Booths and Participants:
Waggons West - Upcycled clothing and accessories. Traditional style soaps. Quilts.
Steeped Tea - Loose leaf teas and accessories.
Scentsy Fragrance - Wickless candles.
Missouri River Driftwood Art
Just Jewelry - Jewelry and Accessories
Pieces of Earth Pottery - Handmade unique one of a kind pottery and living plants flowering, cacti, succulents & orchids when in season

The Present Emporium -

Handmade wooden mugs with woodburned art.
Joyce Factory Direct - Replacement windows, doors, remodeling

Mary Anderson -

Necklaces made from recycled washers
Young Living Essential Oils
Amy's Jewelry Creations - Bracelets, Earrings, necklaces, and rings hand made from beads and charms
Norwex - Cleaning with just water and a cloth!
Greenway Network T-Shirt Sales
Jacob Leinenkugel Brewing Company
Kilambe Coffee - Iced Coffee, Bags of Coffee, Bottle Water, and Glow Bracelets
Army Corps or Engineers (Mo River Recovery Project)
St. Charles Area Radio Club (learn about ham radio communications and listen as they monitor the progress of the racers along the course of the river)
Usborne Books & More - Children's Books from birth to high school
US Fish and Wildlife Service
Sierra Club
USA Insulation - a green company selling premium foam insulation.
Revolution Cycles
St. Charles County Soil and Water Conservation District
Big Muddy Adventures (Free Canoe Rides!)
Mutual of Omaha - Child Protect ID Kit giveaway. Parents who stop by can receive an ID booklet in which they can record their children's vital statistics, such as fingerprints, dental records and a high-quality photograph. This booklet gives parents information that authorities will need if a child goes missing.
Comfort Station
Stream Trash Art
Vikings

Thought Process Interactive Race Leader Board
Food/Drink Vendors

Kids Activities - A newly expanded kids area where most activities are FREE
Sunpainting
Upcycle crafts
Water play area
Rain Gutter Races
News and Updates